The Fall Of Winter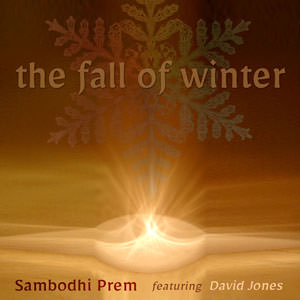 The music of 'The Fall of Winter' was recorded fast and slow: fast because we, percussionist David Jones and myself, recorded all the basic tracks on drums and guitar during a day in the studio in December 2009, slow because it took until February 2017 to record orchestrations and soloists from around the world.
This project started with a simple question: what kind of music do you get when you ask excellent musicians who are also meditators, to make music within an improvisational context? What will happen if you use meditative silence as the starting point to make music? And then afterwards add orchestrations and soloists?
People who play their musical instrument at a high level and have explored their own subjectivity through meditation are well positioned to express their unique individuality in sound. They know what you mean when you say that you would like to capture their essence in a recording.
The day we spent in the studio to record the basic tracks started with an hour of silent meditation; after that hour we recorded more or less non-stop. We left some gaps, some space in the music for an unknown musician who at a later stage would record their part. As a musician you play differently with that image in your mind. While improvising not everything needs to be defined; much can be left to evolve.
Percussionist David Jones' gentle heart is beating at the centre of the Fall of Winter. His style of playing and his scope is oceanic. With his array of percussion instruments he is as easily able to create the sound of a gang of Harley Davidson motorcycles taking off after a strong coffee as he is able to express the sound of a butterfly looking for a rendezvous with a flower. He's a sculptor of air particles at home with the wind and the earth.
David's approach to music has the purpose and the sensitivity that is essential for a great search: a search where one discovers that the gentle is talking to the ferocious, the quintessential is in contact with the innocent and all hands are on deck to be in the great flow of the 'here and now', responding to the waves of music as they are coming in. Music is a language between musicians and listeners and with David every style of music is 'on speaking terms'. I'm so very grateful to have the opportunity to explore this language with him.
My heartfelt gratitude goes out to all the amazing musicians that have contributed: Genevieve Walker's violin on the title piece is sounding like the sweet call of the native thrush, who near my studio in Australia so often offers her brilliant sound at always the right moment.
Nadje Noordhuis' flügelhorn, soft and profound, brings a touch of New York to 'Liquid Gold, Touch and Go'.
On 'I met Nobody Only Silence' and 'Harlequin Lights' Kalyan's cello brings the alpha and omega of emotion and depth to the music, blending with the orchestrations - playing the emperor of musical instruments.
'No Footprints in the Blue Sky', a beautiful composition by Kamal M. Engels, has the magical bamboo flute of Manose. Like the playful jester of the gods Manose knows each note he plays from the inside out. Intimate with the breath inside, familiar with the sound before the air waves begin their dance across the universe.
'The House Where Nobody Lives' is my ode on piano to an imaginary pool of silence where turbulence is gone and reflection remains.
'Revisiting the Moon' has the sarod of Chinmaya Dunster; a long improvisation highlighting the many colours of this fascinating Indian instrument with its reverberant sound. One of Chinmaya's best recordings to date.
'Effervescence' is driven by David's Jones kaleidoscopic rhythms, a pulse that travels across waterfalls and vistas weaving a cloth of awareness.
I would like to thank Robin Mai for the excellent engineering and Martin Pullan for providing a delightful finishing touch in mastering this music.
More than ever these days, recording music is an act of hope. The people involved with this project are all creating music because they understand the long term commitment that the goddess of music expects from them. She is no ordinary goddess – she demands a life of practice. Music is how we measure ourselves, as people and as a society and how she measures us.
In music it is impossible to lie, music is a 'truth machine'.
I hope you will enjoy this music as much as we have enjoyed making it.
Sambodhi Prem
24th of February, 2017
Mount Franklin, Victoria
Australia
Listen to 'The Fall of Winter'
Personel
The Fall of Winter - Genevieve Walker (violin)
Liquid Gold - Touch & Go - Nadje Noordhuis (flügelhorn)
I met Nobody Only Silence - Kalyan (cello)
No Footprints in the Blue Sky - Manose (bamboo flute)
The House Where Nobody Lives - Sambodhi Prem (piano)
Revisiting the Moon - Chinmaya Dunster (sarod)
Harlequin Lights - Kalyan (cello)
A Place Where Life Begins
Love Beauty Bliss
Effervescence - David Jones (percussion)
All tracks
Sambodhi Prem - guitar, piano and sound modules
David Jones - drums, percussion, glockenspiel.
---